Listings provide the multiplier effect: you can get multiple buyer and even seller leads off your listing for those interested in the home! Listing leads are the best quality leads out there – and they are less work than a buy side (no running around doing multiple showings and submitting multiple offers).
I Have A Lead, What Do I Do?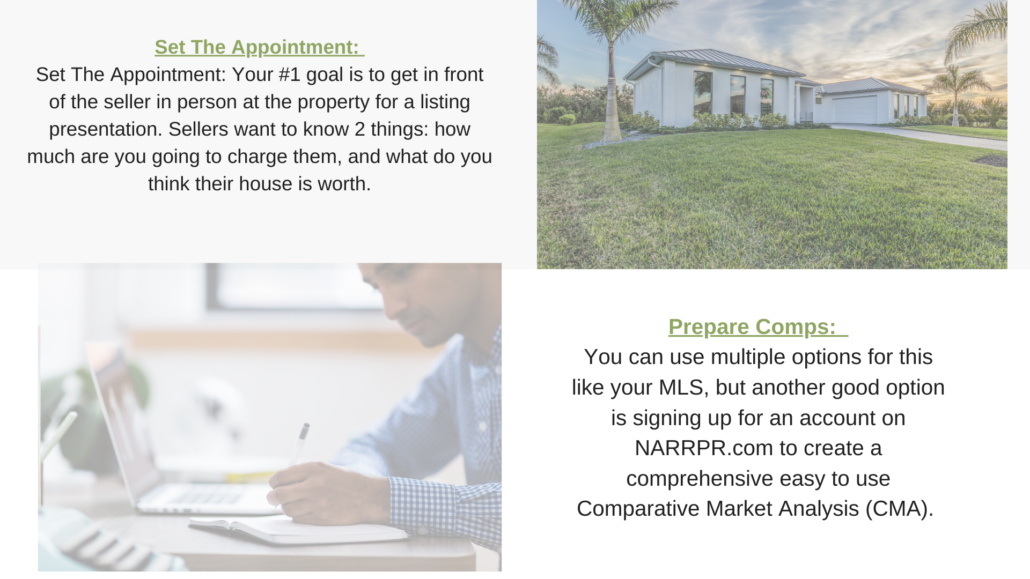 Your #1 goal is to get in front of the seller in person at the property for a listing presentation. Sellers want to know 2 things: how much are you going to charge them, and what do you think their house is worth. When setting the appointment make sure to ask some general questions about the home to get an idea for a comp range since you haven't seen it yet (how many beds/baths, sq ft, is there a pool or garage, do they know the roof age/what type of roof is it, what is the general condition (is it remodeled or a fixer upper), what type of countertops does it have (Granite, laminate, etc), AC condition/age, kitchen appliances condition/age, etc). 
You can use multiple options for this like your MLS, but another good option is signing up for an account on NARRPR.com to create a comprehensive easy to use Comparative Market Analysis (CMA). Select similar properties (sq ft, beds, baths, property type, etc) that have sold in the last 3-6 months as close to the property as possible. See CMA guide here.
Gather The Paperwork/Prepare The Presentation:
Create the list presentation (see our Company List Presentation template here). Create a list side residential loop in Dotloop, this will populate the Exclusive Right Of Sale List Agreement and required company disclosures. Then add in documents as needed like the seller disclosure, or certain addendums (common needed ones are Lead Paint, HOA or Condo addendums for example). Fill it out to the best of your ability, then print it out or bring your laptop with the documents electronically to the home. See the List Side Residential Paperwork Checklist HERE so you know what to include.
Make sure to take a full tour of the home, sellers often describe the home to you over the phone as better than it actually is – so get a good look. Take it all in – don't point out the bad yet, just keep it in mind to mentally adjust comps. Is the home cluttered? Do they have fresh paint and nice furniture? Is the roof and AC old? Etc.
Do The Listing Presentation/Go Over Paperwork:
During the presentation, you will let them know how selling generally works and what you think their home is worth. In the end the price is up to them though. Suggest staging or decluttering if needed, and let them know you will pay for professional photos which is key- 99% of consumers find homes online so this is a digital advertisement of their property. Let them know you will put a for sale sign up, email market to other brokers and internally at your firm, you will put the home on the MLS and in exchange it goes to all third party sites receiving the MLS data (all other brokerage IDX feeds, Zillow, Trulia, Homes.com, Realtor.com, etc). You can host open houses, promote it via social media (Facebook and Instagram ads on your business pages), coordinate showings and obtain feedback, negotiate offers and home inspection issues, etc. Advise what you will charge them – for example 5% total commission, with 2.5% going to the buyer's agent – and if you end up being the buyer's agent, it will only be 4% total commission (this is only an example, but a common one it is not a standard there is no such thing as as standard commission). Make sure you have read through the list agreement and know what it says incase they have any questions (call DW support if needed). Ask if anything will be excluded and not convey with the home.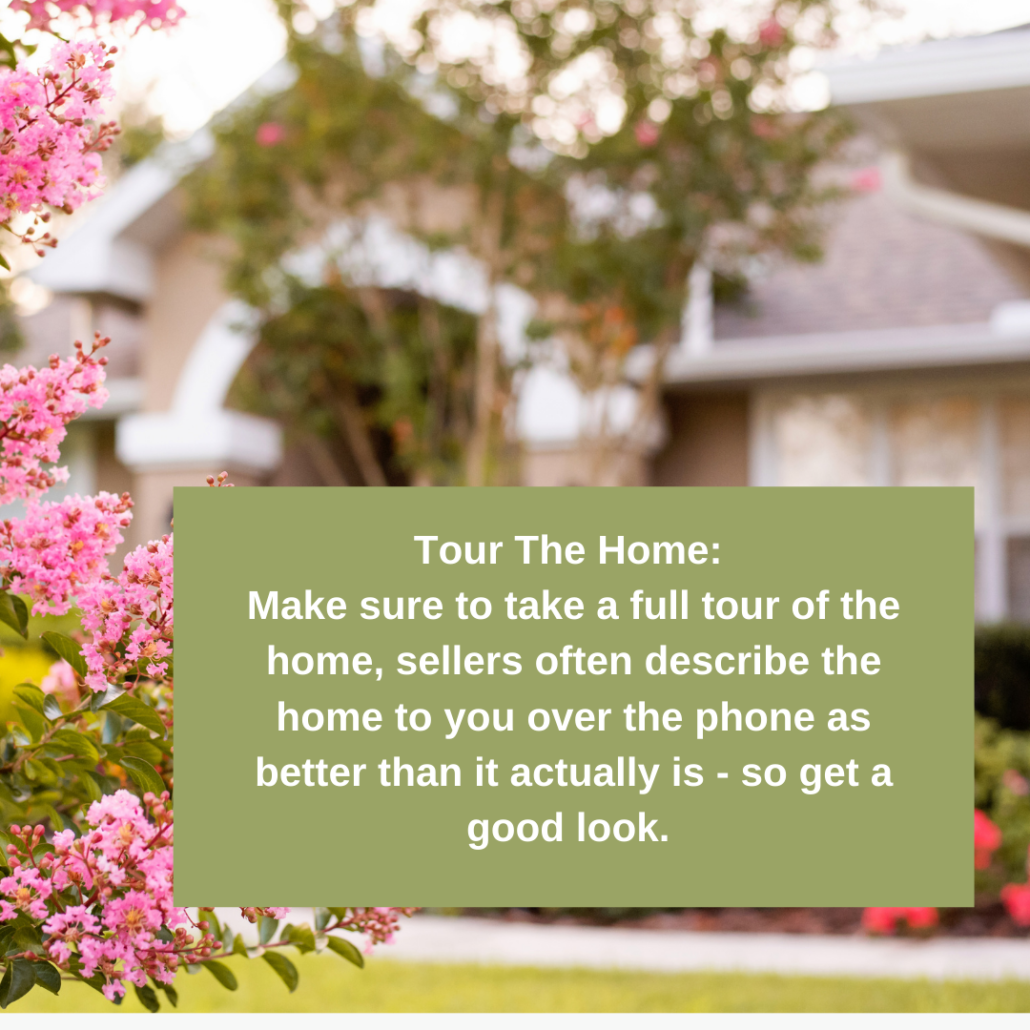 Signing The Listing Paperwork:
If they want to sign – sign it right there! Otherwise, you can email it to them later for electronic signature if they want to think it over. If they want to sign now but don't want it going live in the MLS yet (say they need to clean, paint, etc) you can get an MLS waiver signed – but remember the property can not be advertised in any way during the waived time frame.  If it is, it must go live in the MLS within 24 hours (please reference the "Clear Cooperation Policy" by NAR).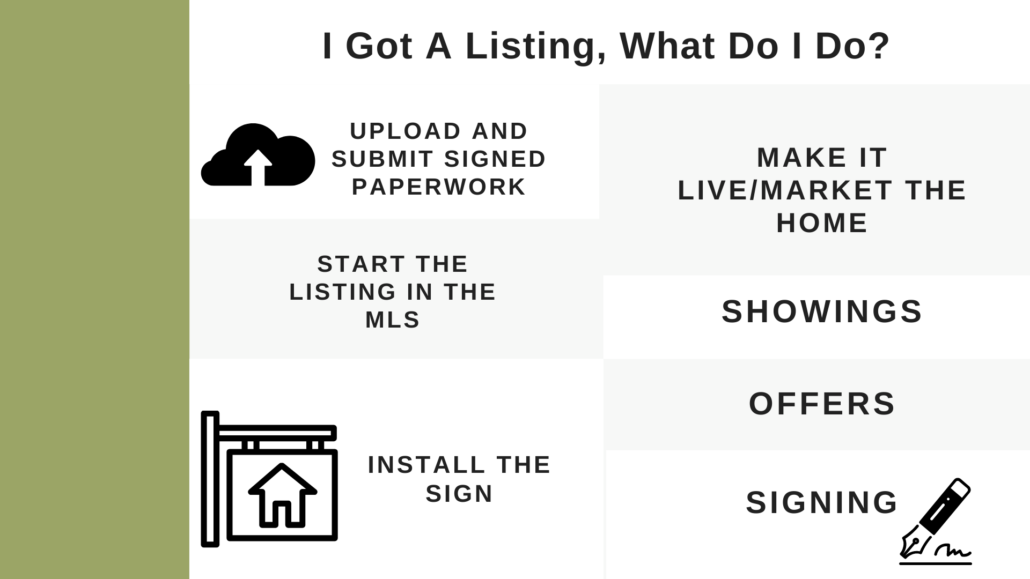 Upload and Submit Signed Paperwork:
Congratulations – they have signed the listing agreement! Upload to your loop and submit for review to our compliance team. Make sure to email a fully signed copy back to your seller within 24 hours. Your seller will also need to sign the seller disclosure, DW required disclosures and applicable addendums if they haven't done so already during the list appointment.
Start the Listing in the MLS:
Make sure you already took your add/edit classes that your MLS requires if applicable. Create a listing as soon as possible – and always check with your MLS on when the listing needs to be live (Stellar MLS is within 5 days of signed list agreement). If you don't plan to make it live yet within the 5 days, have an MLS waiver signed for the time frame and submit to the MLS – but remember ZERO marketing can occur during this time frame. If any property marketing occurs, it must be live on the MLS within 24 hours (See here the Clear Cooperation Policy). Fill out the information (from seller and from public record), upload photos and attachments (addendums, seller disclosure), and save as incomplete. Prior to making it live, print out an MLS broker synopsis of all the details, and send it to your seller to review and sign (this confirms they approve of all information). 
If the community allows for it (check with HOAs), install a listing sign (make sure you already have these in). You will want to order sign post installation from a variety of companies, just do some research or ask in our DWA Facebook group for a recommendation local to you. Then go hang your sign!
Make It Live/Market The Home:
Make the listing live in the MLS within the appropriate time frame and make sure to allow it to go to all 3rd party sites if the seller has allowed. Very soon after it will populate on Zillow, Trulia, Realtor.com, Homes.com, brokerage IDX feeds, your DW website, etc. Market in other ways as well (FB/Insta, Google ads, in house at your brokerage, email marketing to other brokers, open houses, etc).
Facilitate Showing Requests to accommodate your seller's schedule – they will need to be out of the house. Always try to gather feedback on how each showing went to provide to the seller.
If you are receiving multiple offers (which is common in this hot seller's market), ask your seller if they want to set a "highest and best deadline" for all offers to be in by for seller review. If not, they can just view each offer as they come in, but setting a H&B Deadline can let others know how competitive they need to be and get your seller more for their home. Make sure to review each offer with them in full – there are many terms besides price. If needed, negotiate with only 1 offer at a time, not everyone. Lend your expertise and recommendations if they want but ultimately it is up to them which offer to take. See a copy of the As-Is Contract here, and come to contract training to learn more (COMING SOON).
Once your seller has chosen an offer, have them sign and initial all required spots, then return a copy to the buyer's agent!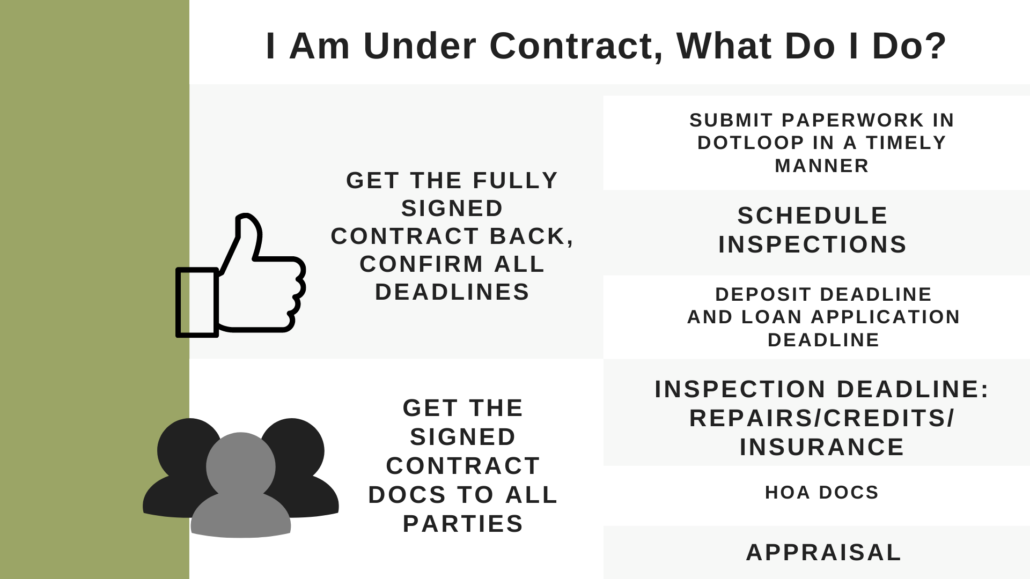 Get The Fully Signed Contract Back, Confirm All Deadlines:
Get the fully signed contract, seller disclosure and all addenda back – and make sure you and the buyer's agent agree on all deadlines including the effective date. This is the date the last party signed and provided copies to the other party.
Get the signed contract docs to all parties:
Send the contract and addenda to the title company, lender, buyer agent and your seller right away – do not assume the other agent sent it to title/lender. Notify the seller of all the buyer's contract deadlines in writing (a comprehensive email works best), and make sure to notify them as each are met or not met.
Submit Paperwork in Dotloop In A Timely Manner:
Our compliance department needs to review your paperwork to keep you (and the company) safe from future issues like lawsuits, so please submit your paperwork in a timely manner (come to dotloop training to learn more).
Check with the title company to obtain a deposit receipt to ensure the buyer got the deposit in by the contract deadline, otherwise your seller can cancel if they did not get it in on time.
If the buyer is obtaining a loan, check with the lender to ensure the loan application was filled out by the contract deadline.
Homeowner Association Documents:
If the home is in a condo or homeowner association, request the docs from your seller but also call the Property Management Company (most sellers don't have the full set of docs to provide and by law buyer gets 3 days to review all docs or they could cancel if they aren't provided everything). You want to make sure you have the declaration, articles of incorporation, rules and regulations, buyer applicable (if applicable), any amendments, most recent financials, ARC guidelines, etc.
Check in with the buyer's agent to see when they are scheduling their desired inspection(s) for, and make sure it fits your seller's schedule since they will need to be gone for several hours.  Once complete, ask if there are any repair/credit requests from the buyer, but keep in mind seller is not obligated to make any repairs with the As Is Contract.  Make sure everything is worked out in writing via fully signed addendum prior to the deadline.
Review The Title Commitment/Lien Search/HOA estoppel/Survey/Elevation Certificate. The title company will perform a title search and lien search, and they will also obtain an HOA estoppel (if applicable) and a boundary line survey (if required for financing). If your seller has an old survey (and even elevation cert for flood zones) you can provide this to the buyer and title company to see if it can be used (it can only be used if its within a certain time frame and no changes have been made like a fence). Make sure to request these documents for review from title as they come in so you can be aware of any liens or HOA requirements that your seller must pay off or fix in order to close.
If the deal is financed make sure the lender ordered an appraisal in a timely manner, and verify a date with the appraiser to let them in during a time that is convenient for your seller. Check in to see when this is to come back (especially if you have a deadline in your contract). If it comes in lower than the contract price, defer to your contract to see if negotiations are possible or if things will proceed as is. Come to full contract training to learn more!
If the buyer is obtaining a loan, request the loan commitment from the lender before the contract deadline. If it can not be provided, your seller can elect to extend the deadline in writing signed by all parties. If seller will not extend, buyer can elect to move forward in writing and waive their financing contingency in the hopes of closing with their loan (their deposit just will not be protected), or they can cancel to get their deposit back prior to the deadline. If buyer simply does not provided the loan commitment, the deadline has passed and they have not advised they wish to continue and waive the finance contingency – seller can cancel within 3 days of that past deadline and refund buyer their deposit back.
Commission Disbursement Authorization:
Fill out your CDA and get it fully signed by us as soon as 10 days before closing. Then submit it to the title company so you can get paid at the closing table! Title will mail us our check.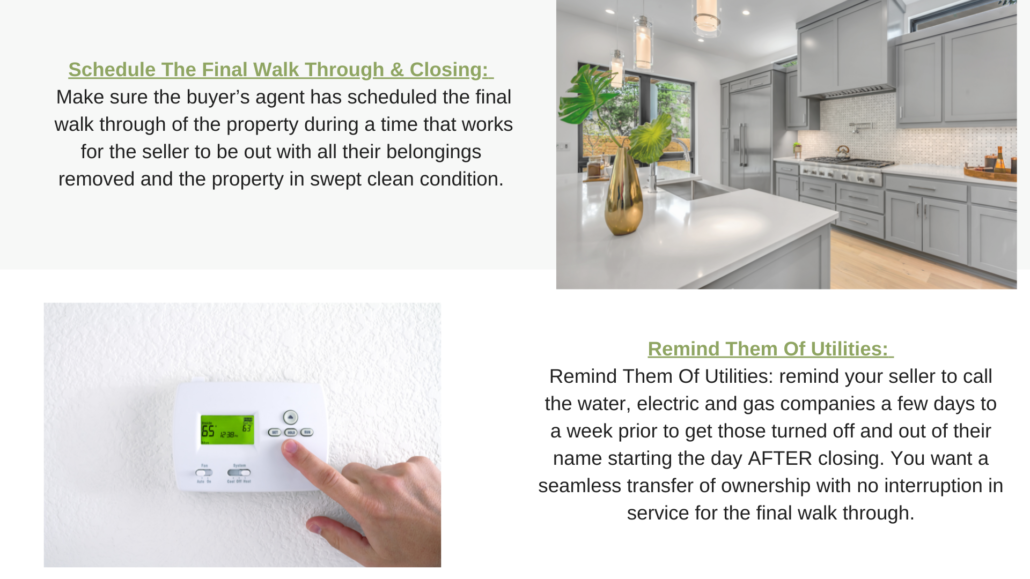 Schedule The Final Walk Through & Closing:
Make sure the buyer's agent has scheduled the final walk through of the property during a time that works for the seller to be out with all their belongings removed and the property in swept clean condition. Schedule a time for your seller to sign closing documents at the title company. If your seller is out of the area, make certain you communicated that to the title company in the beginning and remind them to set up a mobile notary for your seller to sign!
Remind Them Of Utilities:
Remind your seller to call the water, electric and gas companies a few days to a week prior to get those turned off and out of their name starting the day AFTER closing. You want a seamless transfer of ownership with no interruption in service for the final walk through.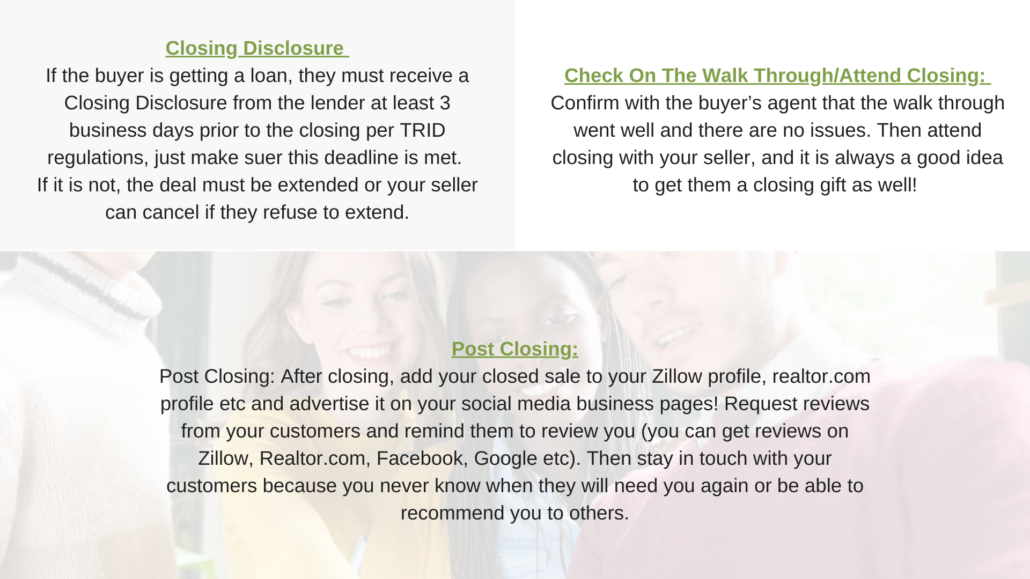 If the buyer is getting a loan, they must receive a Closing Disclosure from the lender at least 3 business days prior to the closing per TRID regulations, just make sure this deadline is met. If it is not, the deal must be extended or your seller can cancel if they refuse to extend.
Check On The Walk Through/Attend Closing:
Confirm with the buyer's agent that the walk through went well and there are no issues. Then attend closing with your seller, and it is always a good idea to get them a closing gift as well!
After closing, add your closed sale to your Zillow profile, realtor.com profile etc and advertise it on your social media business pages! Request reviews from your customers and remind them to review you (you can get reviews on Zillow, Realtor.com, Facebook, Google etc). Then stay in touch with your customers because you never know when they will need you again or be able to recommend you to others.