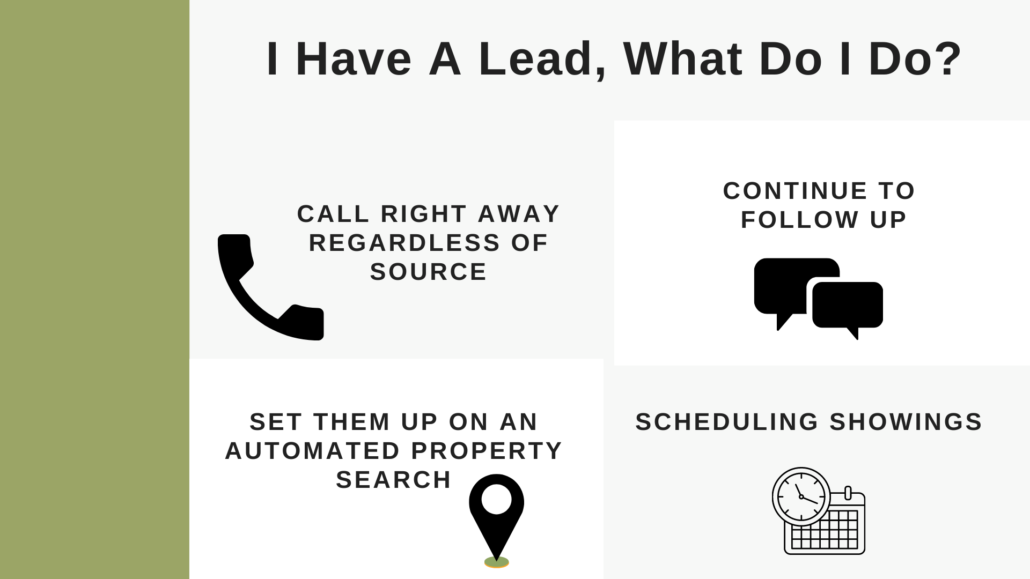 Call Right Away Regardless Of Source:
Call your lead immediately regardless of where you got it – you never know where your closings will come from! Some sources are generally better than others, but don't discount any. That is a mistake because the same leads look for homes through multiple channels.  And most agents are just emailing their leads instead of calling which is NOT effective. Always call right away and keep in mind, what is the worst thing they could say – no?
Follow up with a text and email regardless if you got ahold of them or not. Leads want to "verify you" and have a way to contact you back in writing. Everything and everyone is online these days and if you aren't it can be detrimental to your business. Continue to try to reach them several times, and if no response you can always set them on a smart drip plan to automate your reach outs. Come to Boomtown Training to learn more about Smart Drip Plans!
Set Them Up On An Automated Property Search:
Do this on Day 1 in your Boomtown as an E-Alert or in your MLS regardless if you got ahold of them or not (it can be based on just the original property they asked about if they didn't answer the phone). This sends them something useful to them branded with your information – they could request a showing from it!
Ask what date and time they want to go, and ask if there are any other homes they found that they want to see – leads may not realize you can get them into any homes, especially if they found it outside of your website. Hopefully you can schedule multiple showings at once so even if one goes pending, you could still meet them in person at the others! Meeting in person (even live virtually) is crucial to working together (One of our lead programs OpCity did a study and found that 90% of leads that closed met their agent within the first 2 weeks). Arrange properties in geographical order if you can and follow the showing instructions in the MLS for each home. Make sure your showing is confirmed with the list agent before you show it. Arrive early to open up and bring customer synopsis MLS printouts for your clients, then a broker synopsis for yourself to answer any questions. Schedule your next time out with them if you can so you already have something lined up.
If A Lead Is Interested In A Home:
Answer their questions, and if you don't know the answer, find out from the list agent and quickly get back to them. Make them a CMA (comparative market analysis) so they can see the current value of the home, but in this market "market price" (what people are willing to pay for a home) if often much higher than list price so you can let them know that as well. Ask the list agent how many offers they have, their highest and best deadline, and what the seller is looking for in an offer besides price. There are many terms to consider besides price!
I Am Making An Offer, What Do I Do?
If you haven't already, call the list agent to find out the total number of offers they have, their highest and best deadline and ask what is important to the seller besides price. Sometimes close date or possession date, cash or finance, short or no inspection period etc can be just as important.
Obtain Their Pre-approval Letter Or Proof Of Funds:
Ask your client for a pre-approval letter from their lender, offers will not be considered without one in this market. You can suggest a lender if needed so they can get approved (we have the Dalton Wade Mortgage Team who is more than happy to help you at any time – https://daltonwade.mimutual.com). If it is cash, ask for their proof of funds (they can obtain this from their bank or online banking portal).
Create a buy side residential loop in Dotloop. The As-Is contract will populate along with any DW disclosures (the As-Is is used 99% of the time and it is what we will reference here). You will need to add in applicable addendums (check the MLS for any seller provided addendums like the HOA, CDD, lead paint, etc and request the seller disclosure). Add your own addendums too if applicable (ie FHA/VA, Appraisal Contingency, etc). See the Buy Side Residential Paperwork Checklist HEREso you know what to include. Come to Dotloop training to learn more.
Discuss all the offer terms with your buyer, there are a lot of terms besides price. Examples include: deposit amount(s), downpayment amount (this is NOT the same as the deposit and can be a fatal mistake), financed amount, acceptance deadline, close date, loan type, loan application deadline, loan commitment deadline, who pays title insurance, title commitment deadline & cure period, appraisal deadline/contingency, home warranty, special assessments, flood insurance deadline, inspection period deadline, assignability, subject to lease, HOA application deadline, etc. See copy of the As Is Contract for details here. Come to our full contract training to learn more (COMING SOON).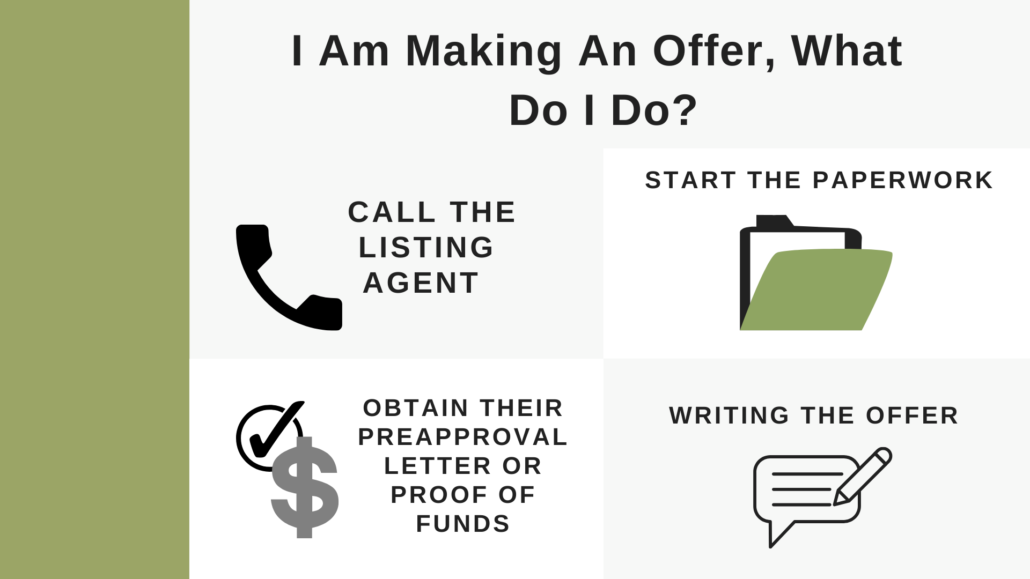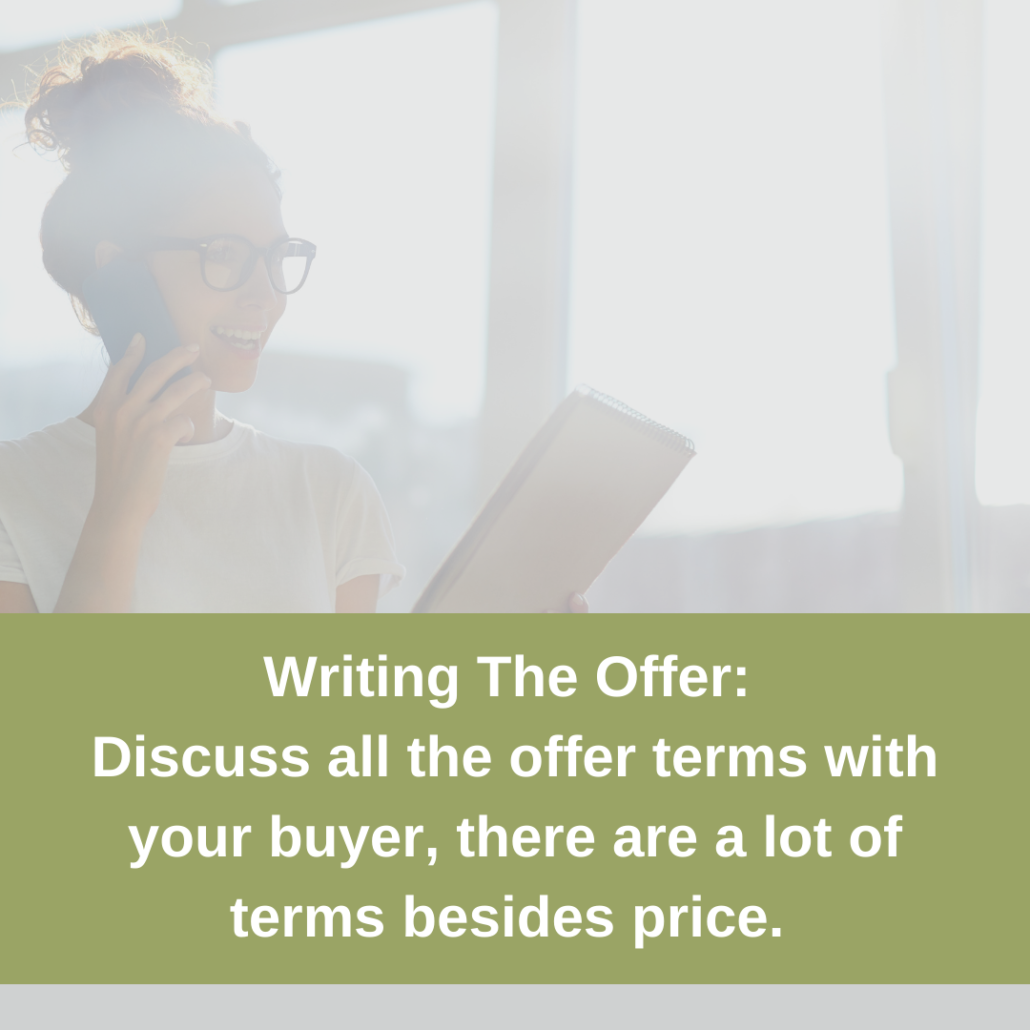 Send all documents via Dotloop to your buyer for their electronic signature. Once they have signed, copies will automatically come back to your loop. Come to Dotloop Training to learn more.
Email the signed contract, addendums, seller disclosure and preapproval/proof of funds to the listing agent along with a short and powerful email description of your client. Make sure to check up on the offer when the deadline approaches (not all listing agents will notify you if yours isn't accepted). If the seller wants to negotiate with your buyer, assist in the negotiations to try and get the best deal for your client, while maintaining seller interest in this "seller's market".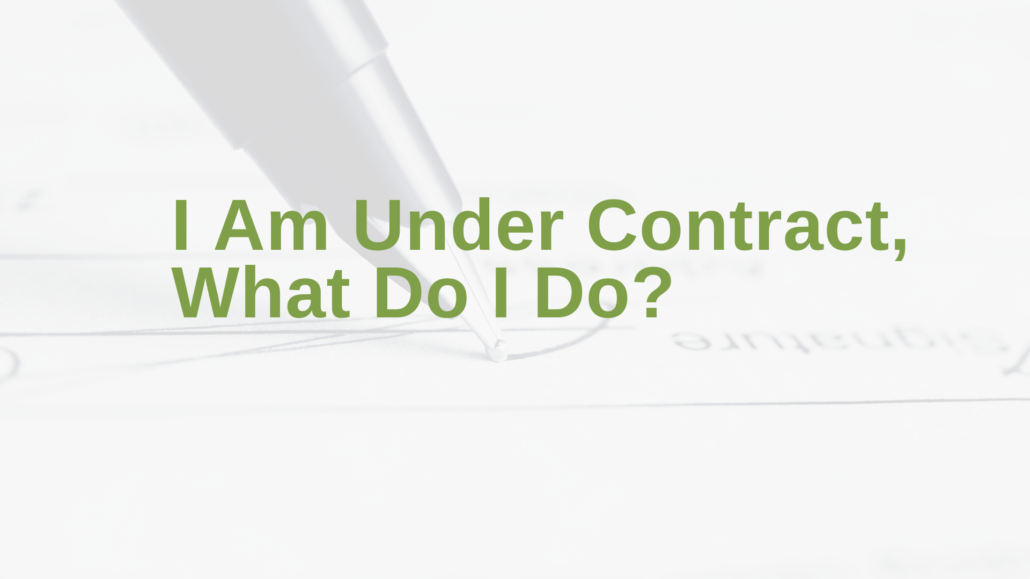 Get The Fully Signed Contract Back & Confirm All Deadlines:
Get the fully signed contract, seller disclosure and all addenda back – and make sure you and the list agent agree on all deadlines including the effective date. This is the date the last party signed and provided copies to the other party.
Get The Signed Contract Docs To All Parties:
Send the contract and addenda to the title company, lender, list agent and your buyer right away – do not assume the other agent sent it to title/lender.  Notify the buyer of all contract deadlines in writing (a comprehensive email works best), and make sure to assist them with meeting each one.
Submit Paperwork in Dotloop In A Timely Manner:
Our compliance department needs to review your paperwork to keep you (and the company) safe from future issues like lawsuits, so please submit your paperwork in a timely manner ie within 48 hours of signature (come to dotloop training to learn more).
Make sure to get the home inspection (and termite inspection if required for VA/FHA or desired) scheduled right away as soon as you get under contract. Suggest licensed reputable vendors if needed and request a date and time with the list agent to ensure the seller finds it acceptable as it will take several hours. Try attending the inspection so you will be more up to speed on any issues.  Buyers may also view anything of public record about the home and get additional inspections if needed/desired (like a roof inspection, seawall inspection, etc).
Make sure the buyer gets their deposit in to the title company by wire or check by the deadline (do not have them mail it in, there will not be enough time it is usually 3 days or less).
Loan Application Deadline:
Make sure your buyer has filled out the loan application with their preferred lender before the contract deadline (default is 5 days). Provide proof to the list agent that this has been completed to protect buyer deposit.
Inspection Deadline & Insurance Shopping:
Repairs/Credits/Insurance: Once the home inspection is back make sure your buyer has reviewed it and relay any credit or repair requests they have to the other agent. Remember though the seller is not obligated to do anything with the As-Is contract, and this is a seller's market right now. Have your buyer check with insurance companies to ensure the home is insurable as it is during the inspection period so you can find out early enough to get your deposit back if needed (a 4 point report may be required from the home inspector depending on age, ask your preferred insurance company).  If it isn't insurable at this time, you can request the appropriate repairs (insurance is required for financed deals so you don't want this falling apart last minute).  If flood insurance is required, try obtaining a prior elev cert from the seller to get an estimate. Make sure any repairs or credits are negotiated prior to the inspection period deadline in writing via fully signed addendum to protect buyer deposit.
Homeowner Association Documents:
If the home is in a condo or homeowner association, request the docs from the listing agent.  Make sure to always obtain the Property Management Company contact information as well so you can call to ensure you have all documents (sellers often do not have everything you need your buyer to review).   Your buyer will have 3 days from receipt of full docs to review and decide if everything is acceptable, or cancel the deal for a deposit refund.  You want to ensure you have the declaration, articles, bylaws, rules and regulations, ARC guidelines, buyer application (if applicable), any amendments, and most recent financials. 
Title Docs: Title Commitment, Lien/Permit Search, HOA Estoppel, Survey/Elev Cert
During the course of the transaction title will order and obtain multiple documents. Always included is a title commitment and lien search so request these to review for any issues.  Request a permit search at the start of the file if you want one to see if there are any open permits.  An HOA estoppel will always be ordered by title if in an association, so when it's back request to review for any violations and confirmation of any special assessments/buyer application/lawsuits/fees, etc.  If the home is fee simple owned and the deal is financed, a survey is required (and elevation certificate if in an AE flood zone).  Ask the list agent if the seller has a survey or elev cert at the start of the deal, and if they do you can provide it to title and use it in lieu of ordering another one (*Restrictions apply). Always provide all docs to your buyer for review as soon as you receive them.
Loan Commitment Deadline:
If your deal is financed, there is a deadline of which you must have a loan commitment from the lender to provide to the list agent so you don't risk your buyer's deposit (the contract default is 30 days). Request this from the lender and if it's not available, try to extend the deadline in writing signed by all parties. If seller will not extend, buyer can elect to move forward in writing and waive their financing contingency in the hopes of closing with their loan (their deposit just will not be protected), or they can cancel to get their deposit back prior to the deadline. If you are moving forward, always notify the seller in writing so they can not cancel on you after the deadline has past!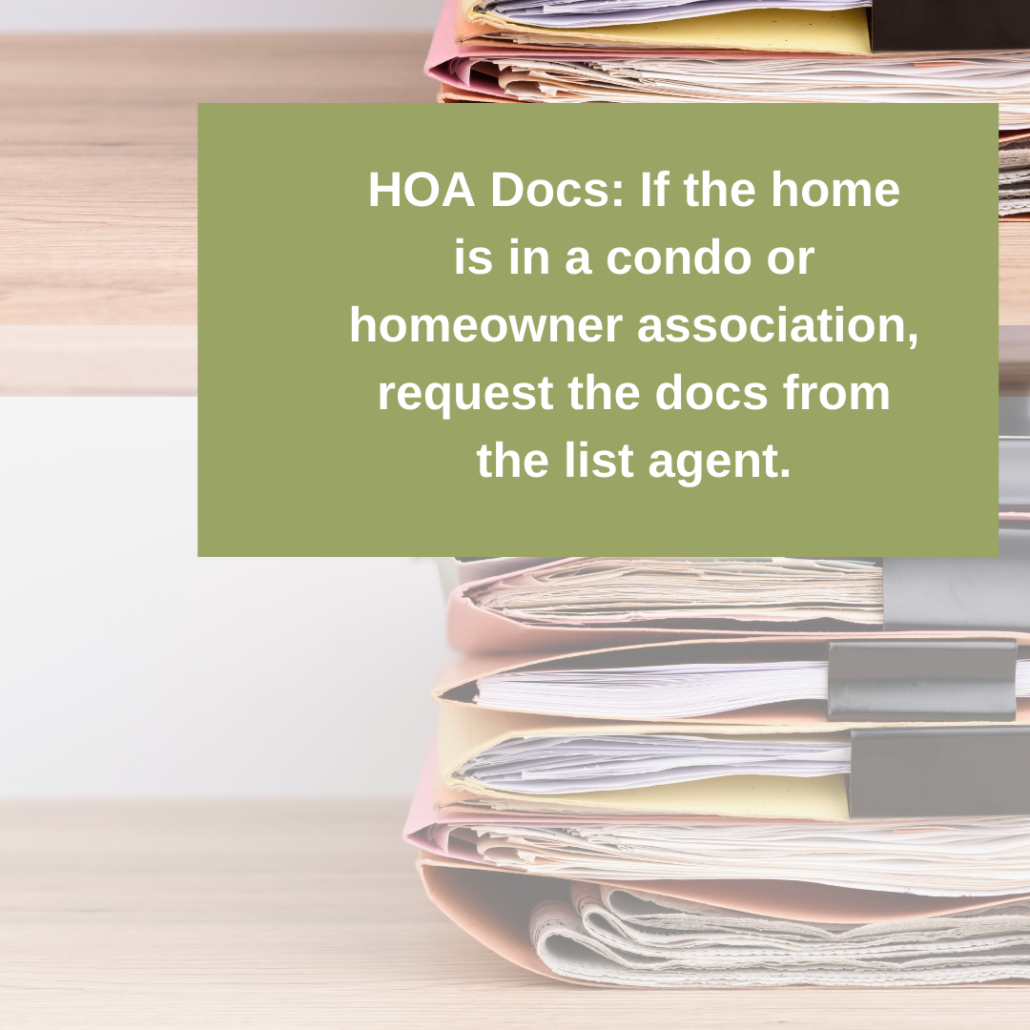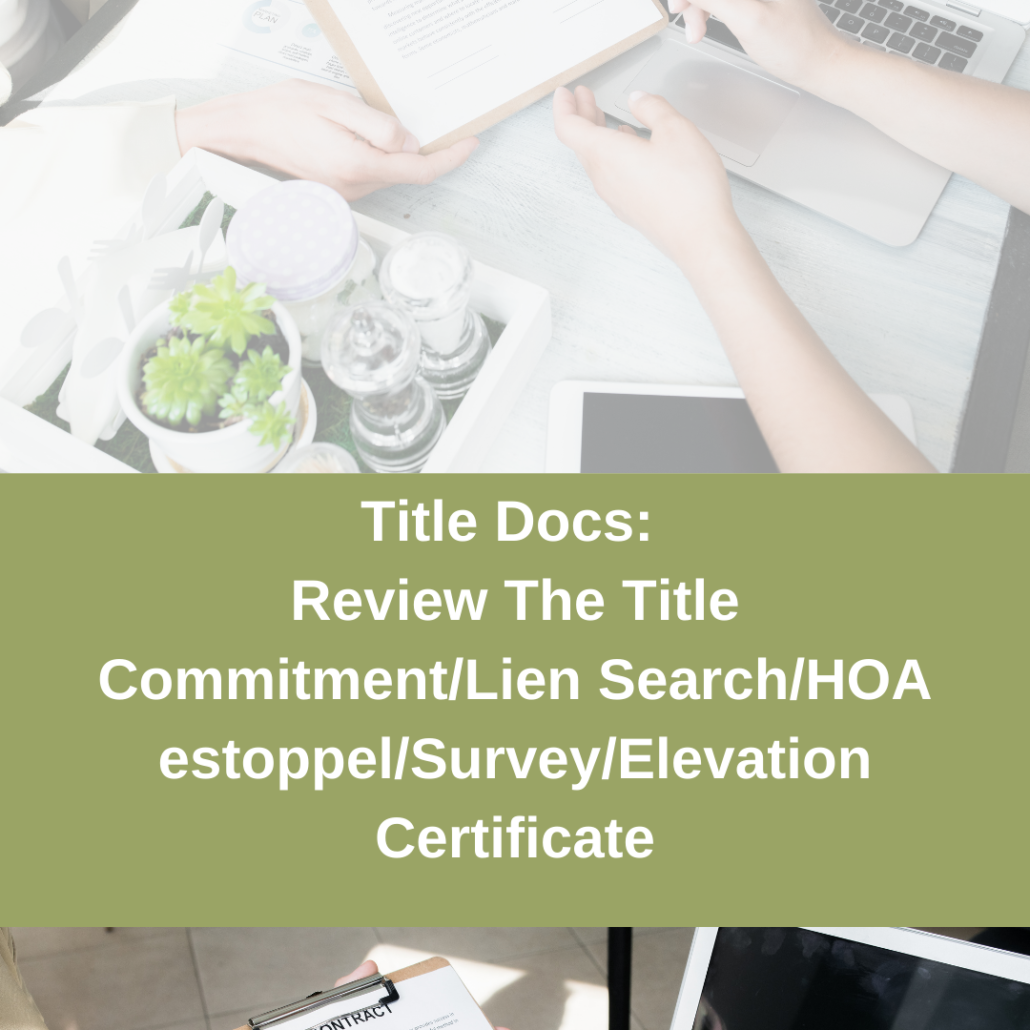 Commission Disbursement Authorization:
Fill out your CDA and get it signed by us as soon as 10 days before closing. Then submit it to the title company so you can get paid at the closing table! Title will mail us our check.
Remind Them To Set Up Utilities:
Remind your buyer to call the water, electric and gas companies a few days to a week prior to get those turned on and into their name starting the day of closing. The seller will be calling as well to turn them off and out of their name – you want a seamless transfer of ownership with no interruption in service for the final walk through.
Schedule The Final Walk Through & Closing:
About a week in advance, schedule a final walk through of the property with your buyer for the day before (or the day of) closing, but make sure it fits the seller schedule first. Then schedule a time to sign closing documents at the title company.  If your buyer is out of the area, make certain you communicated that to the title company in the beginning and remind them to set up a mobile notary for your buyer to sign!
If your deal is financed, your buyer must receive a Closing Disclosure from the lender at least 3 business days prior to the closing per TRID regulations, otherwise the deal must be extended.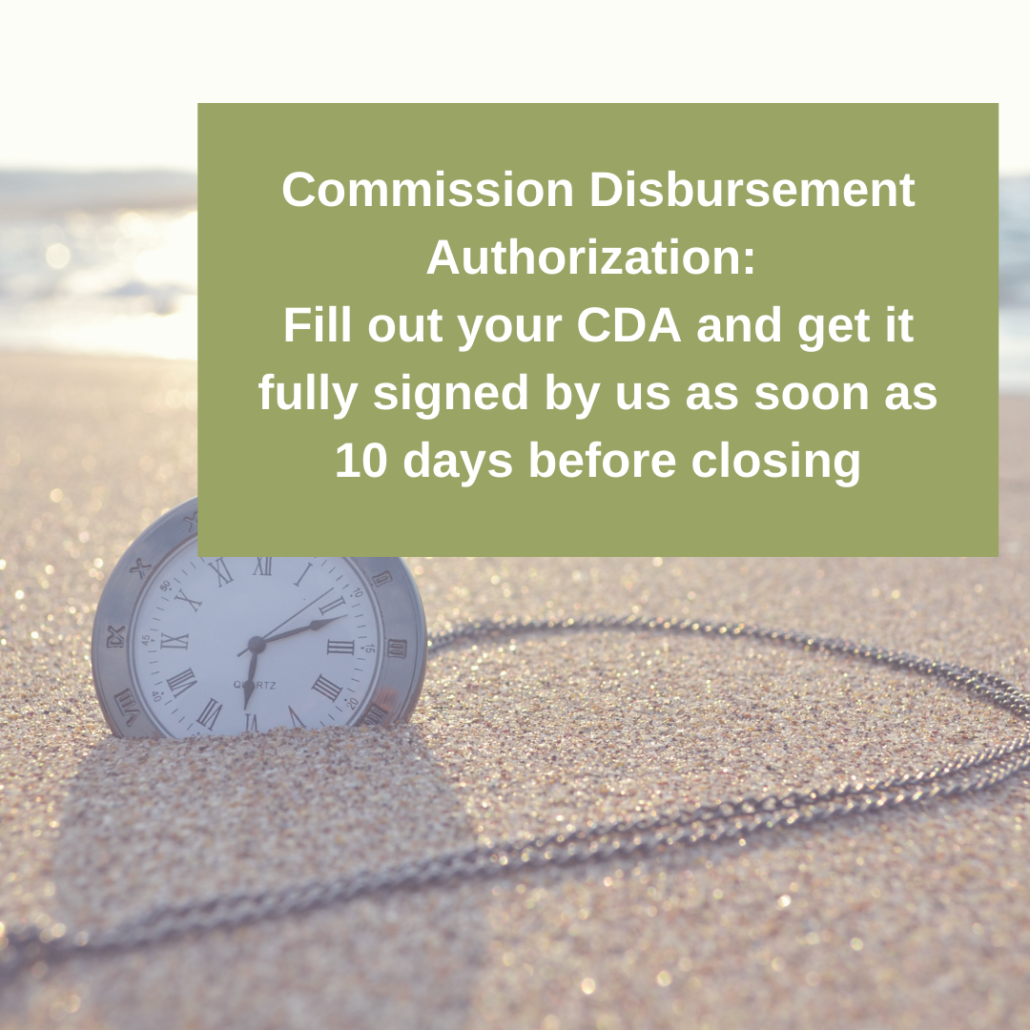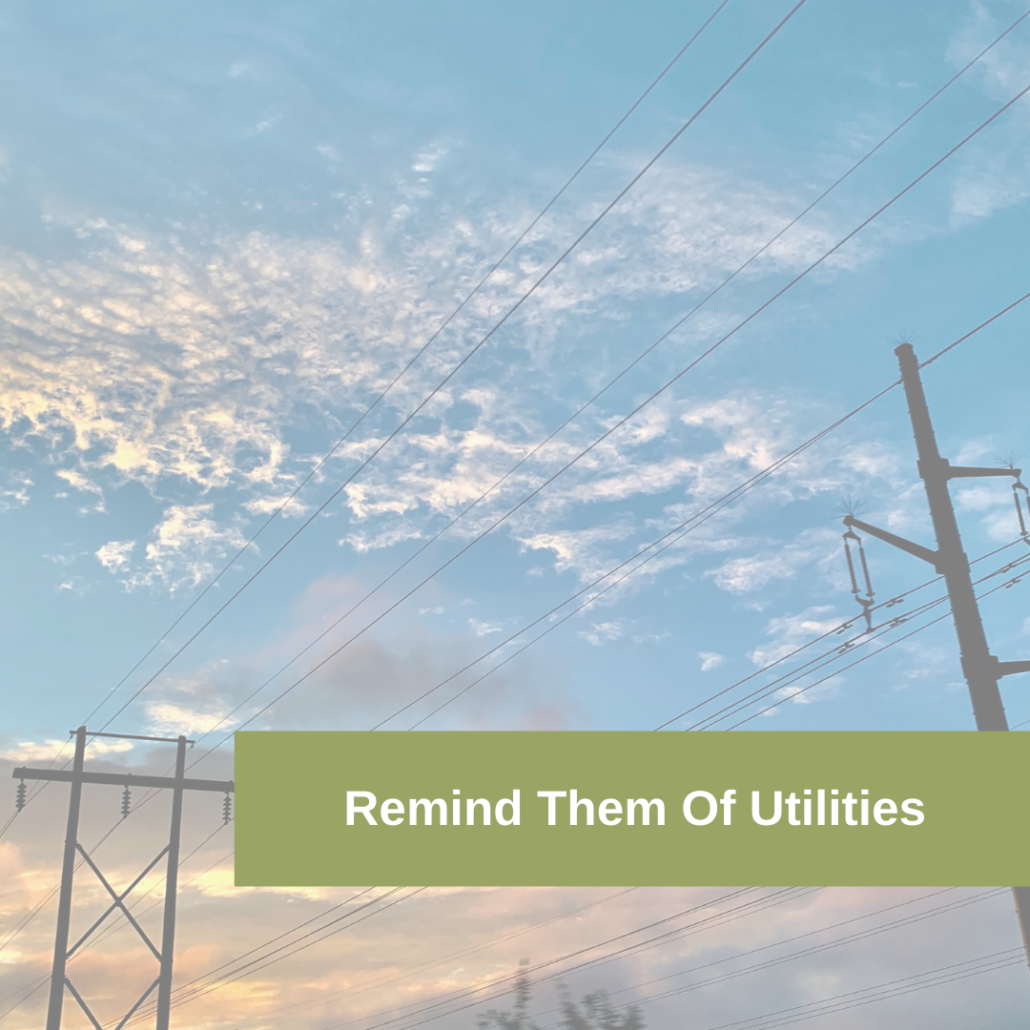 Make sure your buyer wires funds to the title company for their final figure (checks, cash or money order is never accepted). They need to get this in the day before or early the day of closing (that is usually when they receive their final figure from title). Have your buyer verify by phone first the wiring instructions with the title company contact info you gave them in the beginning – buyers are at risk for wire fraud via intercepted emails from criminals who provide fake wiring instructions.
Attend The Final Walk Through/Closing:
Go with your client to the final walk through of the home. Have them look around to ensure the home is acceptable to them, and make sure the water, gas and electric is on incase they want to test anything. If any repairs were negotiated, ensure they are acceptable. Have your client sign the DW Final Walk Through form. Attend closing with your buyer, and it is always a good idea to get them a closing gift as well!
After closing, add your closed sale to your Zillow profile, Realtor.com profile etc and advertise it on your social media business pages! Just make sure to use your own photographs if you aren't the listing agent as those photos are their intellectual property. Request reviews from your customers and remind them to review you if they don't get to it right away (you can get reviews on Zillow, Realtor.com, Facebook, Google etc). Then stay in touch with your customers because you never know when they will need you again or be able to recommend you to others.