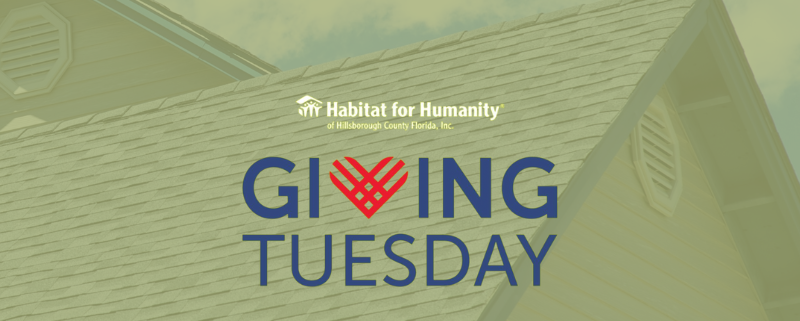 After the Black Friday and Cyber Monday hype, it's almost refreshing to find an opportunity to truly give back – and learn about the incredible forces and organizations behind the good deeds. Habitat for Humanity or Habitat, is a US non-governmental, and nonprofit organization, created in 1976 by Millard and Linda Fuller. Former President, Jimmy Carter who has famously committed to the cause, noted:
"Habitat provides a simple but powerful avenue for people of different backgrounds to come together to achieve those most meaningful things in life. A decent home, yes, but also a genuine bond with our fellow human beings. A bond that comes with the building up of walls and the breaking down of barriers."
— Former U.S. President Jimmy Carter [https://www.habitat.org/volunteer/build-events/carter-work-project]
Most recently, Habitat for Humanity of Hillsborough County, "..Hopes to raise $13,000 in a single day for a roof on a new home for a Tampa woman and her family." [Patch online, November 29, 2022] Habitat of Hillsborough builds and renovates homes in partnership with those in need of affordable housing. As realtors, we know the impact of housing on individuals and families. Housing is everything. "Through Habitat for Humanity of Hillsborough County and this special collaborative project with the local real estate industry, Real Estate Build participants had the unique opportunity to come together with partners in the industry, strengthen and make new professional connections, help make the dream of homeownership a reality for two local low-income families and change their lives forever. With the completion of the two 2021 homes, the Real Estate Build has completed homes for three families." [Hillsborough Habitat, https://www.habitathillsborough.org/real-estate-build/] This Giving Tuesday, Greater Tampa Realtors will match contributions made to Habitat Hillsborough.
Online donations to Tampa resident Teresa Davila and her family can be made here.
Dalton Wade is a real estate brokerage business disruptor, think of us like Uber, Amazon or AirB&B as a company who is thinking outside the traditional real estate brokerage box to deliver to you the "Real Estate Agent" better technology, leads, training and support at a fraction of the cost of what most brokerages charge their agents! We provide you with all the tools you need to function effectively in an ever-increasing digital real estate world. We are a 100% Commission Brokerage, with over 1,000 Florida based real estate agents. Our base package starts at $79/month & $79/transaction.
https://joindaltonwade.com/wp-content/uploads/2022/11/Dalton-Wade-MiMutual-InfoGraphics-260.png
800
800
admin
https://joindaltonwade.com/wp-content/uploads/2018/09/logo.png
admin
2022-11-29 19:33:51
2022-11-29 19:33:52
This #GivingTuesday Gives Beyond...