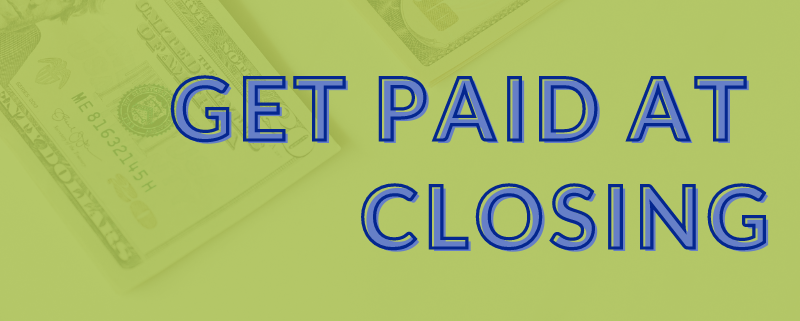 One of the many benefits of being a Dalton Wade agent is that you get paid at closing! Yes – that's right! Get PAID at closing!
So, how does this happen? Let's break it down here, step by step.
By completing the CDA also know as the, "Commission Disbursement Authorization." The CDA, once completed by the agent, signed by Compliance and Phil Wade, is then returned to the agent who may then share with the Title company to be paid at Closing.
The Title company can either wire the commission directly to your bank account or
process a hard check to be either mailed or picked up.
It's that easy! Why wait to get paid? You don't have to!
1. Fill out the CDA completely. Missing any of the necessary items will only delay processing.
2. Obtain the necessary signatures from Compliance and Phil Wade.
3. SHARE by submitting to TITLE
4. Remember CDA's are valid for 10 days.
5. Get Paid!
Did you know here at Dalton Wade Real Estate Group we also have our own title company? Check out Turner Title for virtual and in-person closings, convenience and concierge service. Programs such as ZOCCAM and Qualia help you, the real estate agent, with smoother transactions all across the board.
Dalton Wade is a real estate brokerage business disruptor, think of us like Uber, Amazon or AirB&B as a company who is thinking outside the traditional real estate brokerage box to deliver to you the "Real Estate Agent" better technology, leads, training and support at a fraction of the cost of what most brokerages charge their agents! We provide you with all the tools you need to function effectively in an ever-increasing digital real estate world. We are a 100% Commission Brokerage, with over 1,000 Florida based real estate agents. Our base package starts at $79/month & $79/transaction.
For more details click here: https://joindaltonwade.com/join-dalton-wade/
https://joindaltonwade.com/wp-content/uploads/2022/04/Dalton-Wade-MiMutual-InfoGraphics-79.png
800
800
admin
https://joindaltonwade.com/wp-content/uploads/2018/09/logo.png
admin
2022-04-08 15:23:25
2022-04-25 21:34:58
Why Wouldn't You Want to Get Paid at Closing?