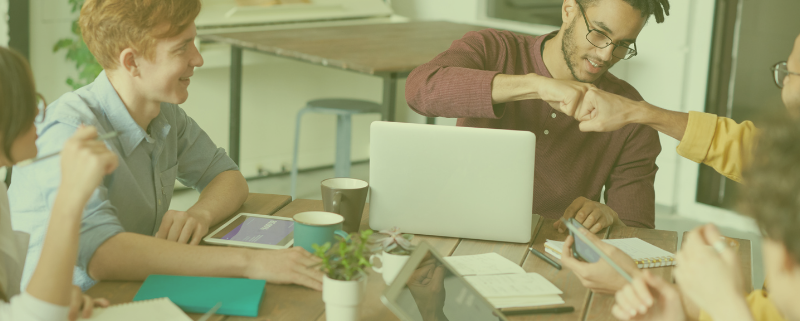 Have you considered in the past building a team of talented agents like yourself to become one force? Maybe you have so many leads and you're unsure what the next step is. Is this the year you finally do it? But, where to start…
Determine Your Goals Carefully decide what matters most when adding a team member and the value they can add to what you have going on right now. Will it help or hurt? Prioritize this, and go from there.
Communication is (Always Key) Facilitate weekly meetings, connect over Zoom if you can't in person, listen to each other and be fair. Seems obvious, but it's really imperative. Align their goals with your goals as a team and ultimately as a business. We love using BoomTown here, and this CRM provides excellent opportunity to distribute leads and rotate in a structure.
Be on the Same Page With Social Media Agree on a logo, branding and messaging from the start. Consitency in messaging and branding is going to ensure success going forward so clients can recognize the team and your "brand." You have the advantage of power in numbers; your hashtags and populating Instagram with content that is under your team's name will help with that domino affect. Maybe you'll consider running some ads. Split the cost amongst team members and agree on a monthly Facebook advertising budget. Your Social Media efforts are doubled or tripled here, so be sure everyone is utilizing the same branding – whether that's colors or logo. Everyone should be on the same page to demonstrate professionalism and trust when clients search you.
Be Smart About the Smart Drip Use your CRM as a team to promote consistency in texting and e-mailing your clients. Brainstorm clever e-mail templates you can use as a team.
Weekly Status Reports on Following Up With Leads Use the "To-Do" feature on BoomTown to stay consistent with Follow-Up and tracking communication with clients. Touch base weekly to see where everyone is in regard to each client.
More Seasoned Agents Should Focus on Engaging New Territory The newer members of your team should begin building their sphere. A variety of skills is actually quite beneficial in evenly distributing efforts to get leads in many different ways.
Dalton Wade is a real estate brokerage business disruptor, think of us like Uber, Amazon or AirB&B as a company who is thinking outside the traditional real estate brokerage box to deliver to you the "Real Estate Agent" better technology, leads, training and support at a fraction of the cost of what most brokerages charge their agents! We provide you with all the tools you need to function effectively in an ever-increasing digital real estate world. We are a 100% Commission Brokerage, with over 700 Florida based real estate agents. Our base package starts at $79/month & $79/transaction. For more details click https://joindaltonwade.com/join-dalton-wade/
https://joindaltonwade.com/wp-content/uploads/2021/01/Dalton-Wade-MiMutual-InfoGraphics-98.png
800
800
admin
https://joindaltonwade.com/wp-content/uploads/2018/09/logo.png
admin
2021-01-30 15:16:25
2021-01-30 15:19:05
6 Tips for Teams